News Letter Update

Noah's Ark is included in the " 2002 Directory of Traditional American Crafts" in Early American Life magazine to be published in the August issue. Ted's carvings are featured in a new Lark book, "Weekend Crafter" by John Hillyer. Look for this book soon. Click on the following link for more information. Weekend Crafter. The Ward Museum of Wildfowl Art in Salisbury, MD will offer a children's carving class "Sand and Paint a Heron" on June 15, 2002 featuring Ted as the instructor. For information go to Ward Museum or email me.

Noah's Ark Chess Set
15x15" $225
Click for zooming the image at it's real dimensions...
Seagull Decoy 4x7x17
$125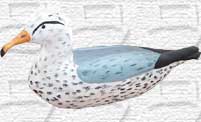 Blue Heron with Frog 4x7x17
$145